Jay was recently gone on a work trip for 8 (8!) days. I always get a weird cleaning and organizing energy when he's away. If I have to be alone-lone-lone, there's some joy to be had in crossing things off my lists and scrubbing the shower for the first time since 2016, amiright?
And since there's surely further joy to be had in rehashing it here for you:
I arranged all the junk in all the junk drawers (plus used this command strip tip to make things stay put, amen hallelujah – see the Quick Tip halfway down the post!)
I ruthlessly purged my t-shirt drawer got rid of 3 t-shirts
I redecorated my mantle (read: I ordered a thing from Etsy for my mantle – but it's okay, because I found cash in one of my junk drawers!)
I reorganized the bathroom cabinets (why can't I let go of you, hotel shower cap I will never use? why am I such a hoarder with a wannabe-minimalist soul?)
I put away all the playing-in-the-snow gear that has lived on our bedroom chair since it snowed (which was at the beginning of January, I'm sorry to say)
I mopped the floors, so that this could happen a few hours later (IS IT NOT UNCANNY HOW THIS HAPPENS?!?)
AND: I took everything out of the overflowing pantry you see above, to purge, prioritize, and organize it.
Isn't it kind of shocking to realize how much food you actually have? Especially since there was more than one occasion during the year week Jay was gone where I was pretty sure we were going to starve since we had "no food". But in reality, we could live for a long time on what I have in the freezer and pantry (and, um, the overflow pantry items I keep in the laundry room. 🤦🏽‍♀️ I mean, a girl's got to keep the backup to the backup peanut butter SOMEwhere).
So here's the challenge for you and for me: try to eat everything in your house that was bought in 2017 in the next 6 weeks.
(Or, you know, you choose your own terms and deadline.)
I actually challenged myself to do this for our freezer food in January. It's halfway through March and I'm STILL WORKING ON THE FREEZER, Y'ALL. I still have:
2 jars of this marinara (putting it on the meal plan this week!)
a big bag of cubed pork (I got a ton of pork shoulder on sale and I had yessir, yessir three bags full, so I've been working steadily on this)
so, so, so much shredded turkey and stock from the time I massively undercooked a huge turkey for an event and ended up having to stick it in a pot and boil it for later use while Jay ran out to get rotisserie chickens OH MY GOSH THE SHAME AND I STILL HAVE IT ALL UP IN MY FREEZER MOCKING ME
2 blueberry sausages no one liked
a kielbasa sausage
a pound of ground chicken (thinking about trying these sausages, bc obviously I don't have any other sausage options, or these lettuce wraps, thanks to advice from my meal planning Facebook group [join us!])
random bread products
The pantry backlog isn't as intense, but I do have a lot of pasta (that "must buy 2 to get 3 free" sale at Harris Teeter got me good), and I have a recipe idea for a soup with white beans and apparently I'm just going to keep buying white beans until I have enough to make experimental soup for the entire neighborhood.
Here's what to do to get started, for either the freezer or the pantry!
Take everything out.
Throw away anything that is significantly past it's date (I'll let you decide how old is Too Old…if the sell-by date was in 2016 I got rid of it).
Plan to use things that are close to their dates right away. Like, this week! Give yourself a deadline – if you don't use it by X date, you have to throw it away.
Sort things that are duplicates and put the older one in front so you'll use it first. Try to use it right away. Like, this week!
Make a list of the things that you need to use up so you can have it nearby when you're meal planning.
Make another little list of things you don't know what to do with so you can search for recipes later (hey, lentils, hey).
Put everything back, with a little more organization (I love this post from Shutterbean about pantry organization – and this is a clever idea about storing things in little meal groupings).
It's not complicated! I don't have any rules for you – I'm totally still buying groceries. I'm just not buying much in the way of pantry food or freezer food.
To recap – here are the benefits to spring cleaning your food:
you get a more organized pantry and freezer
eventually, you'll have more space in pantry and freezer (ahhhh less clutter ahhhh)
not wasting food (it definitely makes me appreciate the abundance I have!)
saving $ on groceries by using what you already have
I am here to CHEER YOU ON, MAN!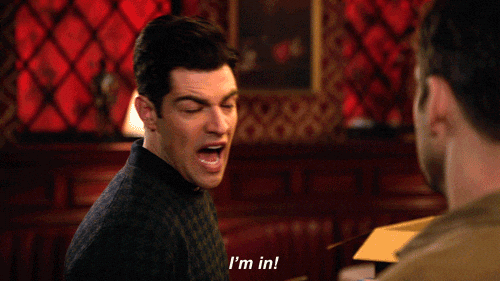 So seriously! Please chime in with a comment below if you're IN to spring clean your pantry and freezer with me! Tell me your deadline, any additional rules you're throwing in there, what you need to use up – I want to hear it all. And let's help each other out with ideas if you have an oddball ingredient you don't know what to do with. (Here's mine: marinated artichokes? I probably bought them for a recipe but I have No Idea What It Was. Help!)
0